Play To Win Half a Million Dollars!
Here is where you can find the details of the Switch Reward Card X PokerGo Sweepstakes. For Official Rules, Terms and Conditions and Alternative Means of Entry, Click here.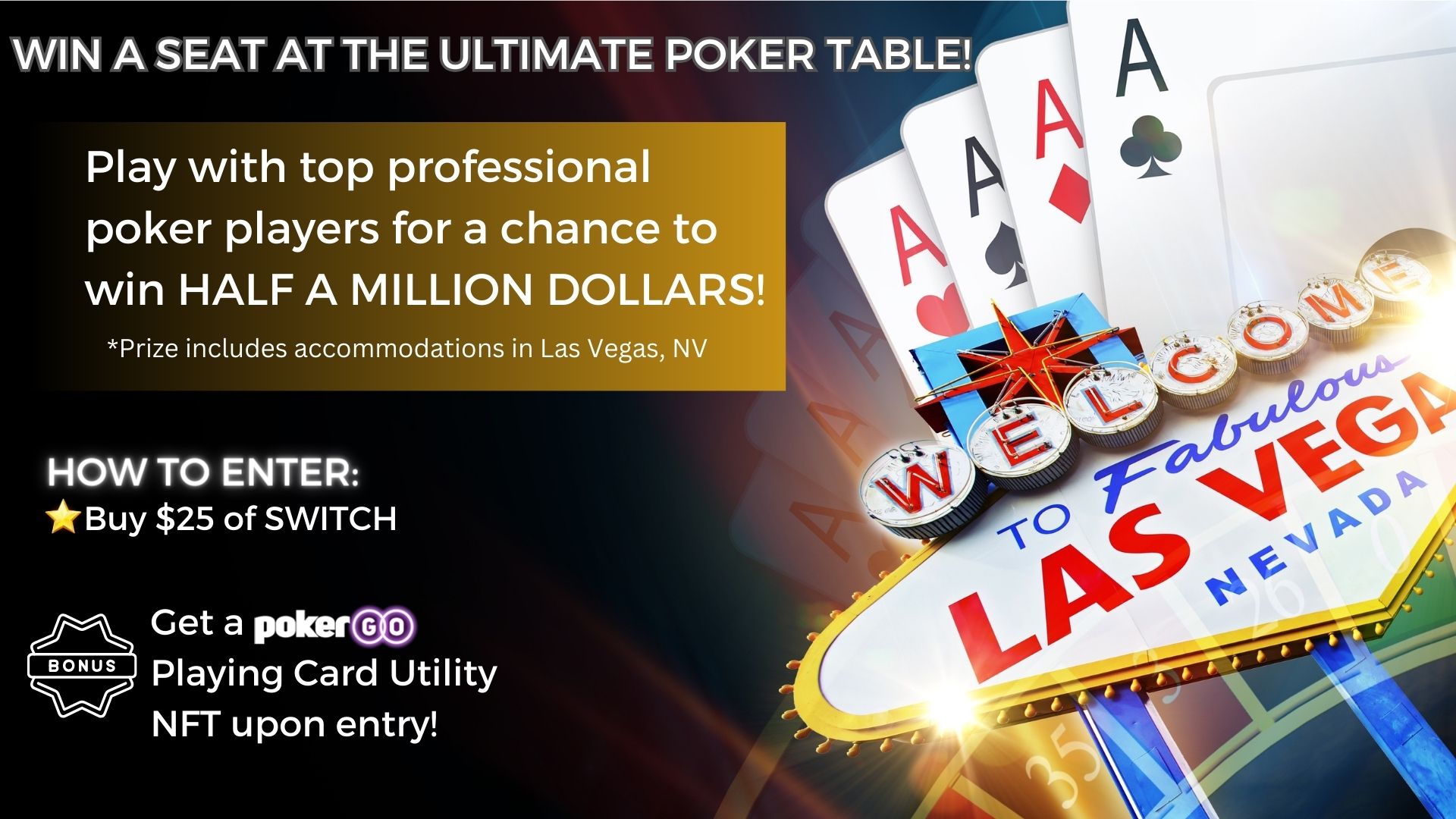 You MUST opt in to participate in order to have your entry counted. Please make sure this is complete before submitting your entry.
There are a few ways you can complete the requirements for entry.
You can enter via credit card by purchasing the NFT directly on the site or enter using Crypto by purchasing SWITCH through another site and providing the transaction hash.
Click each of the options to get more information about each one.
When using a credit card, you will be purchasing the NFT directly. You will fill out some personal information then provide your wallet address where the Utility NFT will be sent on the Polygon network.

When entering using cryptocurrency, you will need to purchase SWITCH from an exchange. For more information see this website made by community members. After the purchase is complete, please copy the new transaction hash (See "What is a "Transaction Hash" for more information), as you will need to paste it below. Please note that no hashes prior to 9/19/2023 will be accepted. With this option you will also fill out some personal information then provide your wallet address where the Utility NFT will be sent on the Polygon network.
What is a Polygon NFT Wallet Address?
This is where the Utility NFT will be sent on the Polygon network. This address should be compatible with ERC-721 (NFT) tokens on Polygon. It is crucial to ensure the accuracy of the provided wallet address, as neither PokerGO nor Switch Reward Card can be held responsible for any tokens sent to an incorrect address.
MetaMask* is one example of a wallet that has the capability of receiving Polygon NFTs. You will need to have the Polygon Mainnet network on your wallet. If you don't already you can select "add network"

How to receive NFTs to your Switch Reward Card Wallet:
Login to your account at app.switchrewardcard.com
Navigate to the "assets" tab along the top
Toggle over to the NFT section and click "get started"
You will create the name of the wallet, you can name it whatever you'd like.
You may need to refresh the page to see the wallet set up.
Once set up, click the button highlighted in red below to show your "receive" address for NFTs.
You can then copy your address where you want the NFT sent
How to see your NFT in your wallet:
This may vary slightly depending on the NFT wallet being used, but these are the general steps.
Navigate to the collection on opensea* at this link
Paste your wallet address that you used for your NFT into the Search on OpenSea
Connect your Wallet
Select "More" then "Hidden"
Select your PokerGO Playing Card NFT that you would like to Import
Note your Token ID and Contact Address of Collection by scrolling down and clicking "Details" (Contact Address: 0xaB93BF50411C990243E230542C8528cC9DBcB53b)
Navigate back to your NFT wallet given for the sweepstakes
Make sure you are in the Polygon network wallet
Select "import NFTs"
Input the Contract Address and Token ID listed on opensea*
Your PokerGo NFT should now show in your wallet.
Please reach out to support@switchrewardcard.com with any questions or concerns.
*Please be aware that when we provide links to third-party websites, we do not endorse, control, or guarantee the accuracy, relevance, timeliness, or completeness of the information on these external sites. We bear no responsibility for the content, privacy policies, or practices of any third-party sites or services. Accessing these links is at your own risk, and we encourage you to review the terms and privacy policies of any third-party websites before using or sharing personal information. Your interactions with these external sites are solely between you and the third-party site.